Privo Technologies, Inc. Presents Phase II Data for PRV111 in Head and Neck Squamous Cell Carcinoma at the 2021 ASCO Annual Meeting
Peter Goldberg
PEABODY, Mass.
, 
June 3, 2021
  — Privo Technologies, Inc. ("Privo"), a biopharmaceutical company focused on optimizing state-of-the-art chemotherapies to be "Tough on cancer, Easy on patients", announced today a poster presentation on the safety and efficacy of PRV111 in patients with early-stage Head and Neck Squamous Cell Carcinoma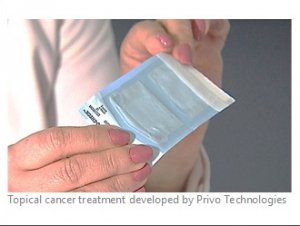 (HNSCC) at the 2021 ASCO Annual Meeting held June 4-8, 2021.
The poster presentation is available in the 2021 ASCO Annual Meeting Library.
The details of the poster presentation are as follows:
Title: A phase II study of PRV111 nanoengineered cisplatin patch as a neoadjuvant therapy for early-stage oral squamous cell carcinoma (OSCC)
Speaker: Nishant Agrawal, M.D.
Poster Session: Head and Neck Cancer
Date and Time: June 4, 2021.
Abstract Number: 6056
Background: OSCC is a devastating disease causing substantial morbidity and mortality. Despite advancements in the conventional therapeutic approaches, surgical resection often leads to permanent disfigurement, while radiotherapies and systemic platinum-based chemotherapy result in significant toxicities, affecting patient wellbeing and quality of life. Thus, development of novel therapeutic approaches is paramount to improve health outcomes and survival of patients with OSCC. Systemic toxicity is often dose limiting, but could be tentatively reduced by locoregional administration. We have developed PRV111, a nanotechnology based patch for local and regional delivery of highly concentrated potent cisplatin, designed to penetrate tumor tissue, reach and enter regional lymph nodes and avoid systemic circulation. Here we present the results of phase 1/2 CLN-001 trial, designed to improve efficacy and reduce toxicity by neoadjuvant treatment with PRV111.
Methods:A phase 1/2, single arm, open-label CLN-001 (NCT03502148) study has enrolled 12 patients with confirmed OSCC; unknown nodal involvement, no distant metastasis, and tumor size ≤ 4.0 cm. Three weeks prior to surgery, patients were administered 1 cycle of standalone neoadjuvant PRV111, consisting of up to 4 treatment visits (each visit dose: ≤12mg of cisplatin, each patch loading dose: 2mg of cisplatin). The primary endpoints were safety, efficacy and tumor reduction in ̃ 7 days by greater than 30%. Secondary endpoints included nanoengineered patch consistent and complete adhesion to mucosal surfaces and uniform drug release. Exploratory endpoints included immunogenesis/immunomodulation.
Results:PRV111 successfully met all clinical primary endpoints, as well as safety and efficacy objectives. It caused over 70% tumor reduction in ̃7 days with over 87% response rate across 10 subjects. No dose-limiting toxicities, serious adverse event, or systemic toxicities were reported and no locoregional recurrences were evident in 6 months. PRV111 induced ̃15 times increase in tumor infiltrating lymphocytes compared with the initial biopsy. Concentrations of cisplatin found in the tumor and regional lymph nodes were over 300 and 100 times higher respectively as compared with IV cisplatin, with only negligible amount of cisplatin found in the blood. Grade 1 or 2 oral and tongue pain induced by the treatment were the most common adverse events. Furthermore, 97.5% successful patch performance was achieved across 182 patches used in the study.
Conclusions: Adding neoadjuvent PRV111 to the care for patients with OSCC may improve the surgical outcome and increase event free survival. Given these encouraging results, future studies are needed to establish the application of this non-invasive platform in head and neck SCC and other epithelial cancers, including anal, colorectal, genitourinary, nasal, and skin. Clinical trial information: NCT03502148
About Privo Technologies, Inc.
Privo Technologies, Inc. (Privo) is a phase 3 clinical-stage biopharmaceutical company committed to developing novel therapies with the potential to transform the lives of people with disabling and potentially fatal mucosal cancers. Privo is headquartered in Peabody, Massachusetts, north of Boston. Privo's initial focus is on oral cavity cancers for their two lead assets PRV111 and PRV211. PRV111 is a nano-engineered polymeric patch with embedded cisplatin nanoparticles designed to effectively treat more than half of all solid tumors. PRV111 has been shown to be effective in patients with head and neck cancer in several hospitals across the US during a safety and efficacy Phase I/II clinical study, dramatically reducing tumor volume without any systemic toxicity. PRV211 is a sterilized, rapid release polymeric patch intended for intraoperative chemotherapy. PRV211 is applied to the tumor bed following tumor resection to eliminate residual tumor cells and reduce the chance of micro-metastasis and recurrence. For additional information on Privo Technologies, Inc. please visit www.privotechnologies.com.
About ASCO Annual Meeting Conference  
Join fellow oncology professionals at the ASCO Annual Meetings – a unique and unparalleled opportunity to connect with one of the largest, most diverse audiences in global cancer care. We're focused on a critical safe path forward, so you can still access groundbreaking science in oncology, the latest trends in clinical application and treatment and insights on equitable cancer care. Attend | ASCO Annual Meeting